Yesterday The Curve and Hub attended March's Nicer Tuesdays!
These kinds of creative events are crucial learning experiences for our teams who can learn from and be inspired by their industry peers.
PHOTOGRAPHER, SOPHIE HARRIS-TAYLOR
THE PROJECT:
Sophie Harris-Taylor came to Nicer Tuesday's to speak about her most recent project, Sisters. Sophie wanted to evolve her practice from capturing snapshots to working on more innovative conceptual photography. She put a call-out on social media asking for sisters to volunteer as subjects, not knowing how large her project would become.
WHAT WE CAN LEARN:
Sophie's social media call-out meant she was able to capture a diverse set of sisters. The images she captured felt honest and authentic, and this added to the magic of the series and captivated the audience at Nicer Tuesdays. She described them as "somewhere between formal family portraits and snapshots".
Through Sophie's talk, I learned a lot about the evolution of a photography project. Sophie's simple idea morphed into a project that was so strong Sophie could then take it to a publisher.
– Sophie said of her project, "When you have a preconceived idea of what you want, you need to know it may not be the best or the right idea". –
I learned that projects might not turn out the way you, and you will face challenges along the way, but it will always be an honest and authentic this way.
ANIMATOR, ALEX NORRIS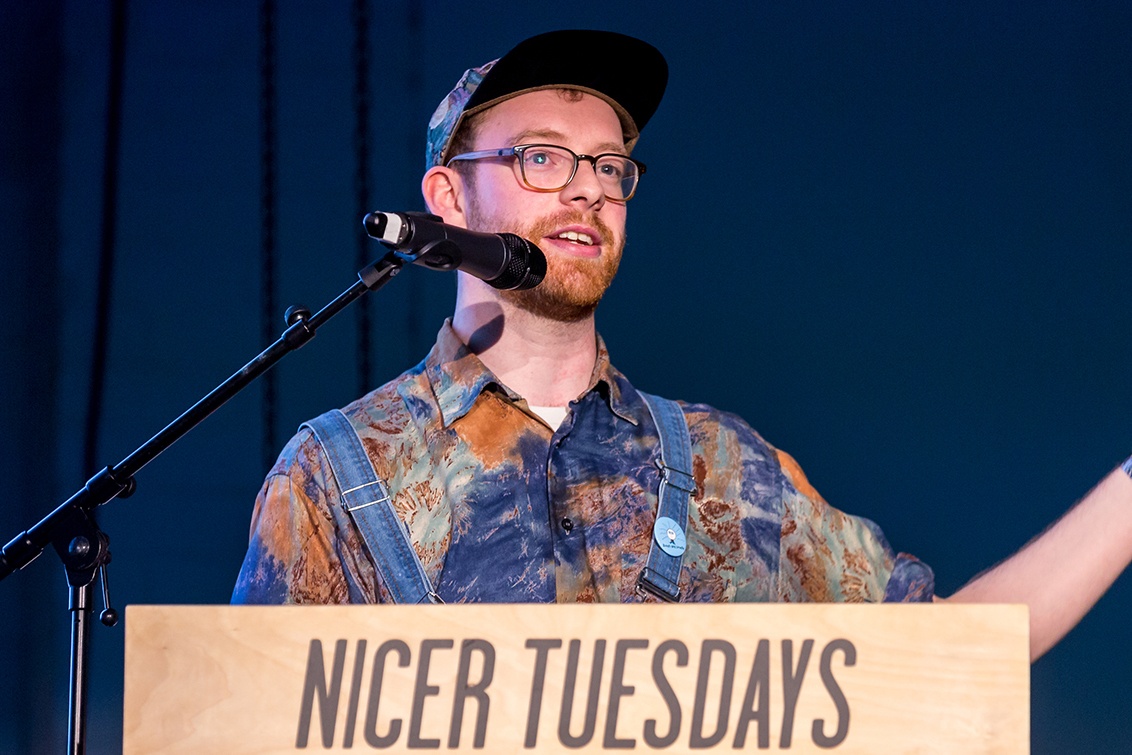 THE PROJECT:
Alex Norris calls himself a writer and studied English Literature at University. However, when he left university, he became an animator to write webcomics. He saw a gap in the webcomics market, noticing that webcomics were becoming increasingly popular but that few people were producing them. Alex first made a name for himself online producing comics under the name dorrismccomics. Alex used to create overly smart, almost confusing comics. He noticed that observational humour in webcomics was becoming increasingly popular. This new form of webcomics was often looked down on and overused by other creatives, but Alex took a risk by parodying observational humour in the creation of webcomic name becoming a bit of a paradox himself… oh no.
WHAT WE CAN LEARN:
Alex was very enthusiastic and engaging, and the audience was full of laughs when he spoke. You could hear the passion and dedication in his voice which was inspiring.
Alex discussed creating a recognisable brand for his comics. "Dorrismccomics" always used to have a purple background- to be dark and vibrant, which is what the brand was. Alex created a consistent brand tone, making sure to include three things in all of his comics: the same catchphrase – "oh no", the same design aesthetics and colour. Branding is important to any project and can help anything become a success.
Alex also discussed the infamous '7-second rule' –
The idea that online you must capture your intended audiences attention in 7 seconds, and if you don't – your content will be just another piece of content hidden by algorithms in the depths of feeds. Alex knew that to be successful, his webcomic needed to be captivating and thumb stopping. Content is king, and sometimes the simplest things are the most effective.
CREATIVE DIRECTOR OF THE GENTLEWOMAN, VERONICA DITTING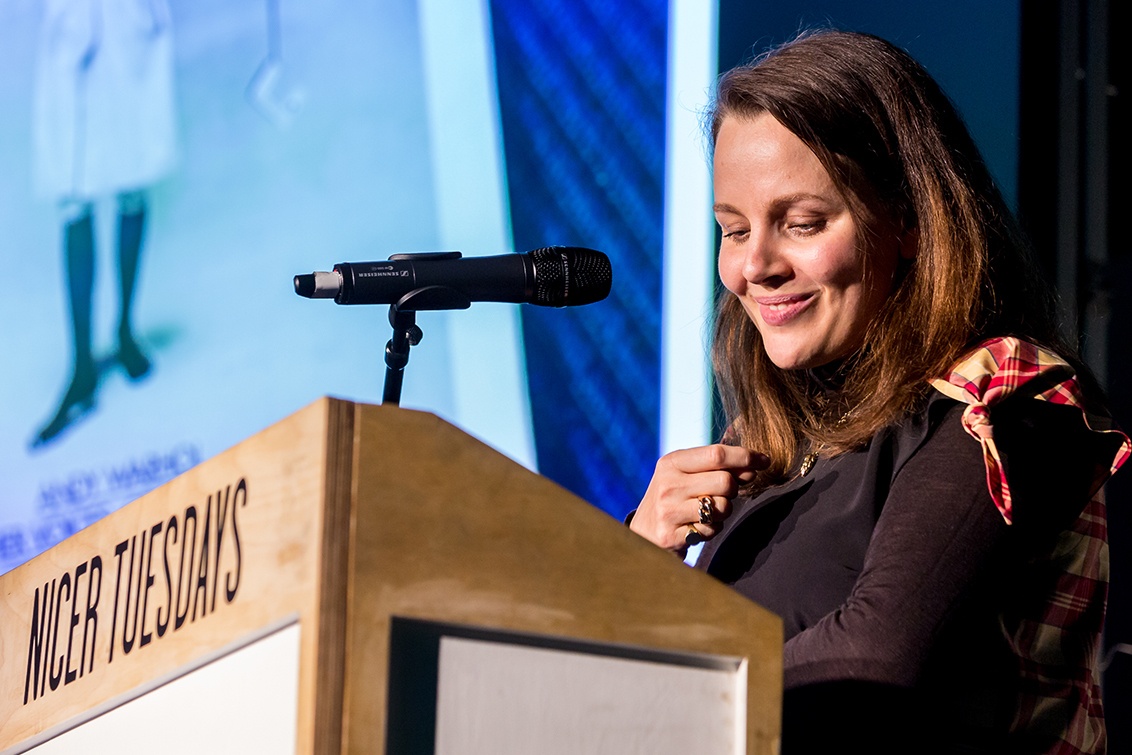 THE PROJECT:
Veronica Ditting, creative and art director of popular magazine Gentlewoman, talked about her life working in fashion as a creative director.
Veronica stressed the importance of creating a good dialogue between yourself and collaborators. Before every issue of Gentlewoman, Veronica holds a team meeting to talk about logistics.
Since Day 1, Veronica and Gentlewoman wanted to be able to shoot Kim Deal, former bassist and backing vocalist of American band The Pixies, and current lead vocalist of The Breeders.
With a few obstacles such as timing and location, Veronica was able to secure Kim Deal for the shoot. The challenge: 3 to 4 shots in only 30 minutes. As if this was not enough of a challenge, in typical London fashion, it started to rain… and then get dark. With persistence, a good team, and a creative eye, Veronica was able to get the shots she needed.
The next shoot Veronica described was a editorial fashion story. Veronica had a clear vision and a 70s style revolving door was key or creating her desired aesthetic. She described painstakingly reviewing different revolving doors around London, searching high and low for one which matched the creative direction she wanted to achieve. Veronica had to be imaginative in her shoots, and even found a door that didn't actually open. Her final piece of advice to the audience was to always edit, edit, and edit again. With an intense four week design production period, consistent hard work and dedication is key.
WHAT WE CAN LEARN:
Veronica talked a lot about persistence and remaining calm. On shoots, her biggest limitations are often time and lighting. When faced with these limitations, her advice was that you just have to get over them. Veronica discussed that there is no time to think hectically, and that it is important to push forward and continue.
– As a creative director, working under pressure is a big part of the job and being innovative with your time – working smarter not harder – is a sure fire way to avoid burnout. Success does not come without effort. –
Creativity comes in many different forms, as shown by Veronica. Throughout various challenges, Veronica has to be creative in managing her team and the logistics of her shoot, as well as the actual images. Being an art director requires creative thinking 100% of the time.
Veronica also talked about connecting with your audience discussing that your relationship with your team and establishing trust with them is vital to the success of a creative project. In order to create original and unique work, great dialogue and relationships in your team must must be high in your priorities.
ANIMATION DIRECTOR, STEVE WARNE
THE PROJECT:
As a graduation project at the National Film and Television School, Steve Warne recruited a team to create the animated short "Pombo Loves You". At the NFTS, people study different creative disciplines and then recruit members of the cohort to produce a short film together over the course of a year. The diversity of people studying at NFTS meant that Steve's team were able to bring different skills and experiences to the table.
The idea for "Pombo Loves You" came from the nostalgia of childhood TV shows such as "Crystal Maze" and "Mr. Blobby". The team took inspiration from the "feral chaos" of these to create "Pombo Loves You". Steve was drawn to the idea of creating a short film which was absurd and funny – yet also dark and sinister. The character of Pombo was formed from the sad, yet beautiful imagery of Mr. Blobby and the foundations of a father daughter relationship.
As for design principles, they were very important to Steve. Pombo battled between the past and the present and to show this, Steve discussed that there needed to be a clear contrast in colours and basic design elements. The colours needed to be fun and vibrant yet also intimidating. Steve also explored a range of techniques throughout the project, experimenting with everything from UV lighting to rear projection. Steve told us that one of the golden rules of stop motion animation is to not touch the camera.
– Steve challenged this: "If I can animate puppets, why can't I animate the camera?". Steve took a risk and show the audience his final cut of the scene – the result was a scene filled with movement and emotion. –
WHAT WE CAN LEARN:
The main lesson to take away from Steve's talk is that projects evolve. "Pombo Loves You" started out as his final project at uni. With diligence, dedication, and passion, a project can turn into so much more. Steve also taught me to not stay in my comfort zone and to try new techniques.
As an intern attending Nicer Tuesdays for the first time, I left the night feeling inspired and wanting to do more. Between the talks, and speaking to others in the crowd, I learned so much. I was immediately hooked and hope to attend more Nicer Tuesdays events!
Sign up now for our latest content and news